One of the current challenges for businesses in many industries is to stay on top of changes in technology. At S2B, we are familiar with the current state-of-the-art software programs available for design and analysis of structures and for production of design drawings. It is our philosophy to embrace new technologies as they become available to the structural design market.
By recognizing the ever-increasing importance of adjusting to new
technology and working proactively to adapt to not only the technology of today but of tomorrow as well, S2B is in a better position to respond to the needs of our clients and projects.
While it is important to ensure we have the best tools in our toolbox for design, it is equally, if not more important, to ensure our staff is qualified to use those tools.
We recognized that learning is a continual process and work hard to foster an environment that encourages our engineers to always strive for more knowledge.
As a woman-owned small business, S2B Structural Consultants, PLLC has obtained the following certifications.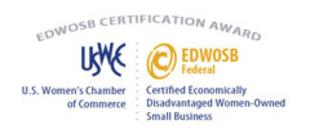 Small Women and Minority Certification #708769
U.S. SMALL BUSINESS ADMINISTRATION (WOSB/EDWOSB)
Many federally funded projects support the inclusion of women-owned small businesses as part of a project team. Eligibility for Women-Owned Small Business (WOSB) and Economically Disadvantaged Women-Owned Small Business (EDWOSB) is evaluated by the U.S. Small Business Administration (SBA) self-certification program.
S2B Structural Consultants, PLLC qualifies as both a WOSB and EDWOSB per the requirements of SBA and has been independently certified by the US Women's Chamber of Commerce. The WOSB and EDWOSB certifications are recognized by most federally funded organizations including, but not limited to, the US Corps of Engineers, the Department of Defense, the General Services Administration, etc.
NATIONAL WOMEN'S BUSINESS ENTERPRISE (NWBE)
S2B Structural Consultants, PLLC is certified as a women-owned business by the U.S. Women's Chamber of Commerce.
PROFESSIONAL
ENGINEERING REGISTRATIONS
The members of S2B Structural Consultants, PLLC are registered in 46 states.